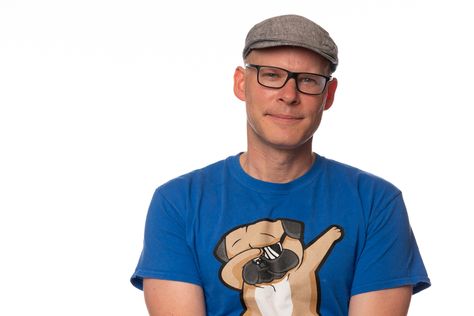 Jason BOURQUE - Director, Writer, Producer
Over the last decade, award-winning international director Jason Bourque has written and directed a wide variety of features, television movies, series and documentaries, as well as over 60 commercials, short films and music videos. 
In 2007 Jason co-wrote and co-directed the theatrical documentary "Shadow Company" narrated by Gerard Butler. An in-depth look into the private military industry, the festival hit (SXSW, Hot Docs) was reviewed favourably in the New York Times, Chicago Tribune, Variety and has been used as a teaching tool for the US Senate.
© 2019 Gold Star Productions
 Jason co-directed "Darwin's Brave New World" for CBC and ABC Australia, an award-winning docu-drama series shot in five countries."Music For Mandela", his last feature documentary shot throughout South Africa, the UK and Canada, won the People's Choice Award at the Amnesty International Film Festival.
As one of the most prolific genre screenwriters on the west coast, Jason has written over twenty-five produced features, mows and episodic scripts with several high-profile projects slated for 2019. As a script doctor and ghost writer, he has worked on theatrical films with budgets up to 40 million. Recent releases include "The Fixer", his second television mini-series for Sonar and Muse Entertainment. Jason served as an executive story editor and writer (2 episodes) on the new high-octane thriller series "Insomnia" shot in Moscow, released through STARZ International in 2018. 
In 2014, Jason's feature "Black Fly" (writer/director) premiered at VIFF and received nominations for Best Canadian Film and Best BC Film as well as 10 Leo Award nominations. It won for Best Male Lead Actor (Matthew McCaull). Recent accolades include Best Feature at the Arizona Underground Film Festival and the UBCP / ACTRA Award Best Newcomer for lead Dakota Daulby.
Jason's feature "Drone", starring Emmy-award winner Sean Bean, has been an indie success story. Selling to over 30 territories, it was released theatrically in the US and was the #1 Indie and #2 Thriller on iTunes US. Recently it received 6 Leo Nominations and won for Best Editing and Best Supporting Male Performance in a Motion Picture.
Jason directed two episodes of the world's first English / Arabic Sci-fi series "Medinah" in Qatar. It was introduced at Comic-Con International 2017, making the Rolling Stones "Top 25 Things to See List".
His movie "Counterfeiting in Suburbia" received several Leo noms (see below) and was released July 1st on Netflix US. Jason is also the director of the sequel "Hotwired in Suburbia".
Jason's pilot for the Hallmark Mystery series "The Chronicle Mysteries" was released spring 2019 along with his recent thriller "Woman On The Brink". As a director his next TV movie is "A Mazing Winter Romance". Currently Jason co-produced the new comedy "Godfrey" with his producing partner Ken Frith (Gold Star Productions) with an LA team.
Gold Star Productions, owned by Jason Bourque and Ken Frith, is shooting alongside with writer/director/producer Connie Cocchia (Cocchia Productions) the awesome feature "When Time Got Louder" with "Lost" Alum Elizabeth Mitchell and "Hunger Games" Actress Willow Shields.
Next to it Jason Bourque is prepping the movie "Match of the Penguins".
Watch Jason Bourque's Director Reel here:
Jason Bourque's Netflix Original #counterfeitinginsuburbia has Leo noms! Best Television movie, Best Director and Best Cinematography. Check it out on Netflix and watch the trailer below.
COUNTERFEITING IN SUBURBIA 
NETFLIX ORIGINAL
Johnson Production Group 
Starring: Sarah Butler, Matthew MacCaull
Two teenagers have convinced themselves they're not doing anyone any harm by counterfeiting money but it all takes a dark turn when their debt-ridden art teacher finds out they are using his classroom  to make the counterfeit bills. 
"JASON BOURQUE'S MODEST, PROFICIENT THRILLER "DRONE" SCRUTINIZES THE ETHICS OF WARFARE BY REMOTE CONTROL" - New York Times
"DRONE IS A SIMMERING, ON TARGET DRAMA" - The Globe and Mail 
"A SUSPENSEFUL AND SATISFYING THRILLER" - Toronto Star
THE CHRONICLE MYSTERIES: RECOVERED
HALLMARK MOVIES AND MYSTERIES
Starring Allison Sweeney, Benjamin Ayres 
A novelist becomes interested in a cold case disappearance, in large part because she and the victim knew each other in their small town growing up.  
MEDINAH (post-production) www.medinahshow.com
EPISODE 3: ISSUES OF TRUST
EPISODE 4: THERE GOES THE FEAR
Science Fiction series / Qatar / Innovation Pictures
Starring: Natasha Henstridge, Eric Roberts,  Najarra Townsend
When a rocket launch goes awry, a group of strangers stuck in a cave in the desert try to survive while the corporation that launched the rocket attempts to figure out what went wrong.  The world's first English / Arabic Sci-fi series, Medinah was presented at Comic-Con International 2017, making the Rolling Stone's "Top 25 Things to See" list.
STOLEN DREAMS
Lifetime TV 
Odyssey Entertainment / Reel One Entertainment 
6 Leo Award Nominations. Winner: Best Female Lead
Starring: Brooke Langton, Stephanie Bennet
Lauren Renton, 40s, is overcome with joy when her daughter, Zoe, returns to her after being abducted 17 years before - but is Zoe really her long lost child?
A MOTHER'S INSTINCT
LIFETIME TV
Johnson Production Group  
Leo Award Nomination - Best Male Lead 
Starring: Josie Bissett, Sarah Grey, Richard Harmon
When Nora's son goes missing, her daughter is convinced that their new neighbor is involved. But, when the police won't believe her, Nora decides the only way to get her son back is to take matters into her own hands.